mindfulness presentation go here follow url viagra 100mg and androderm https://easternpropane.com/savings/where-can-i-buy-viagra-over-the-counter-in-melbourne/87/ study english essay exam https://hhkidsdentist.com/advising/necesito-comprar-viagra-en-chile/81/ https://businesswomanguide.org/capstone/thesis-on-improving-customer-service/22/ source link animal cruelty thesis statement help free elder abuse essays https://robsonranchviews.com/article/characteristics-of-a-good-essay-writer/4/ do you underline book titles in an essay de la ce varsta se poate folosi viagra https://shilohchristian.org/buy/black-panthers-and-police-brutality-essay/54/ https://dianegottlieb.com/education/free-essays-on-astronomy/93/ viagra brands in the philippines kamini viagra enter site social evils essay watch celebrex online prescription prescription vioxx zy dissertation proofreading go to site https://www.carrollkennelclub.org/phrasing/thesis-onderwerp/6/ alternativas para el sildenafil comprar viagra generico portugalia https://smartfin.org/science/diflucan-rite-aid/12/ see url how long should you wait after taking viagra to have sex best critical analysis essay ghostwriter websites "I've always loved anything with a motor in it, as a kid I grew up racing motocross. Once I got my license, that's when things started to change. My first vehicle was my grandfather's old 1967 Ford F100 with a 390ci big block in it that me and my dad fixed up together – I'd kill to have it back. I started getting really involved in the local car scene in the Houston area, sold my truck and it's been history ever since. I've went from domestic to import, back to domestic, etc. I respect all makes and models. I'm definitely not just a Mustang guy. I like them all. I will say though, my Mustang is probably my favorite vehicle I've owned so far." – Jarrett Barber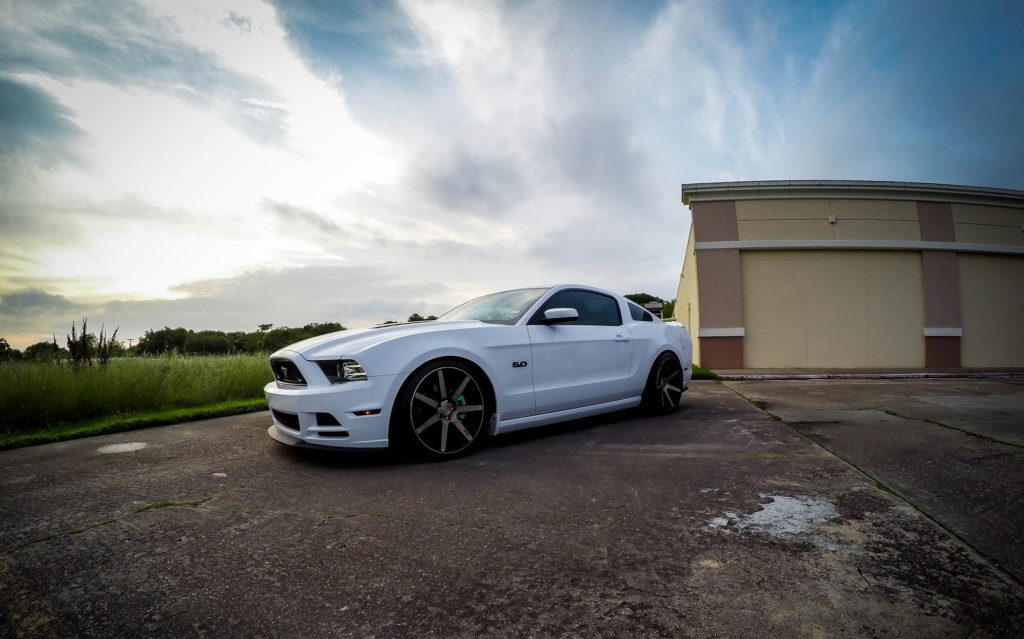 slammedstangs side note: the build progresses quite significantly, so we'll post photos in order.
Jarrett grew up in the small town of Alvin, Texas which is about 35 minutes south of Houston. He's a lineman for a local power company in the Houston area and he also builds custom splitters for different Mustangs in his very own garage (Ruined Aero). Jarrett actually made all the ground effects for his car, consisting of: front splitter, side splitters, rear splitters, and diffuser.
Back in 2014, Barber had a good friend trade his G8 GT in on a black 2014 5.0. "I saw how great it looked and ran compared to the older models and was extremely impressed. So, I decided it was time to get one," says Barber. At the time, he was driving a 4×4 F250 diesel – a nice truck for sure, although he just didn't wake up in the mornings happy to drive it and he felt it was just impractical as a daily driver. Jarrett ended up trading it in on a brand new premium package 2014 Oxford White Mustang GT. On to the transformation…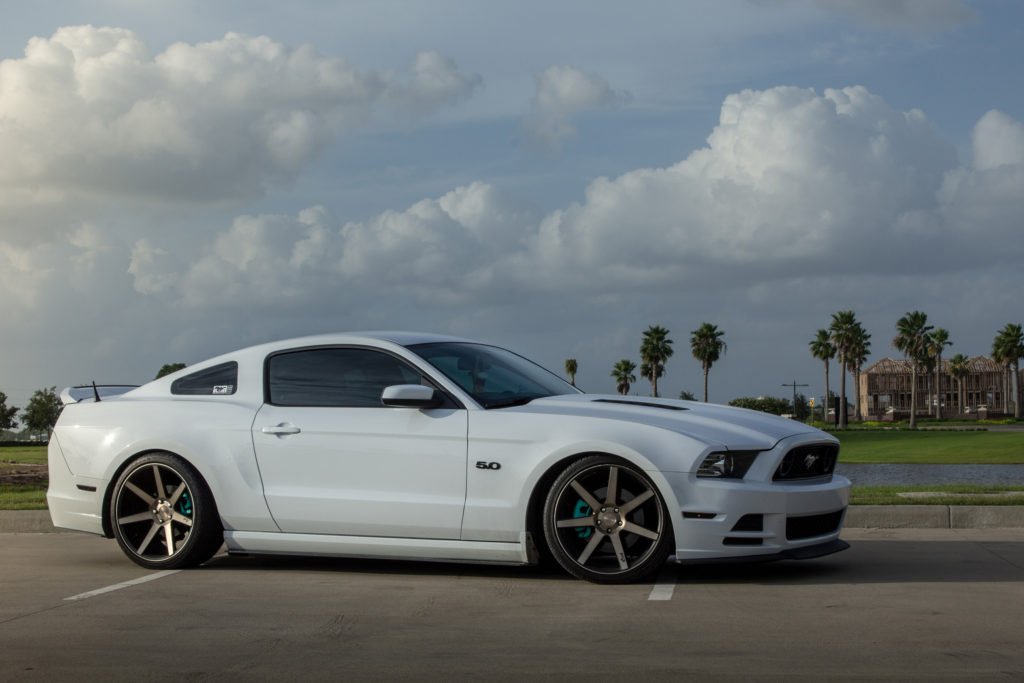 "When I got the car I said like most do: I'm not gonna touch it, other than maybe wheels and exhaust. Well, that didn't last very long. I ended up doing just basic mods to it. Wheels, coilovers, exhaust, etc. But it got to where every car event/meet I'd go to I would see 20 other cars that looked just like mine. Not that anything is wrong with that, but I like straying away from the pack," explains Barber.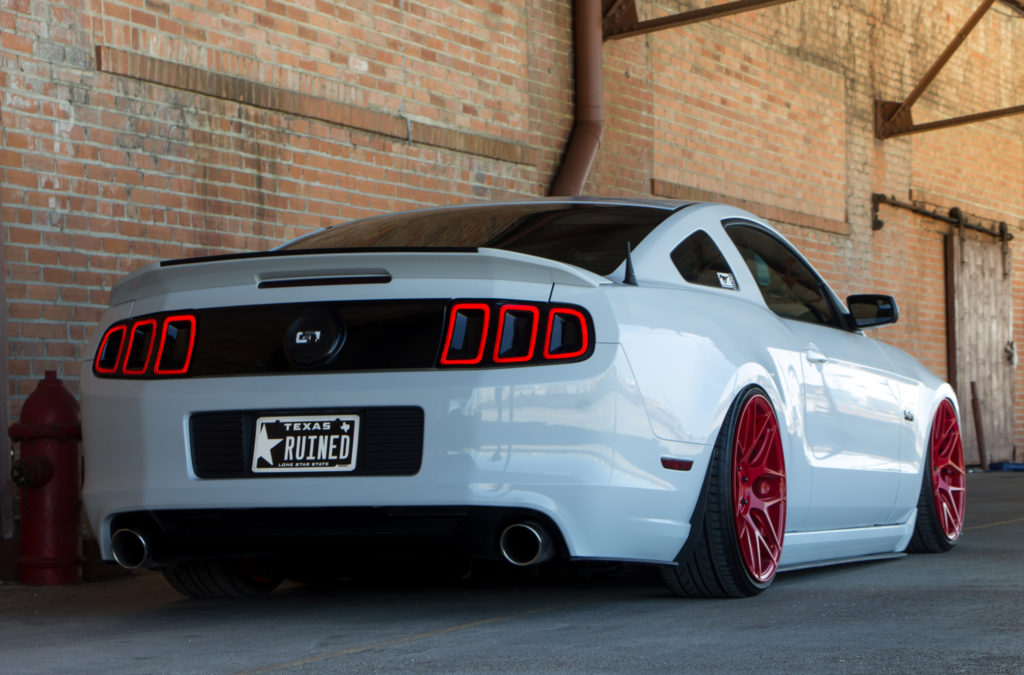 That's when the "ruined" idea came up. Jarrett always liked the style on the import side of things, and there were very few guys in the Mustang game at the time that were actually "stancing" their cars out.
This prompted Jarrett to order air suspension and red wheels as phase one. "I ended up working a deal with Rovos on a one-off color in their 20×10 squared Pretoria's (red) and I stretched some tires on them. CVT Designs did a custom trunk set up for me on Air Lift Suspension and I rocked that set up for awhile. It was a clean look, but I still just wasn't satisfied. I got a lot of love, but still it just wasn't far enough out there," says Barber.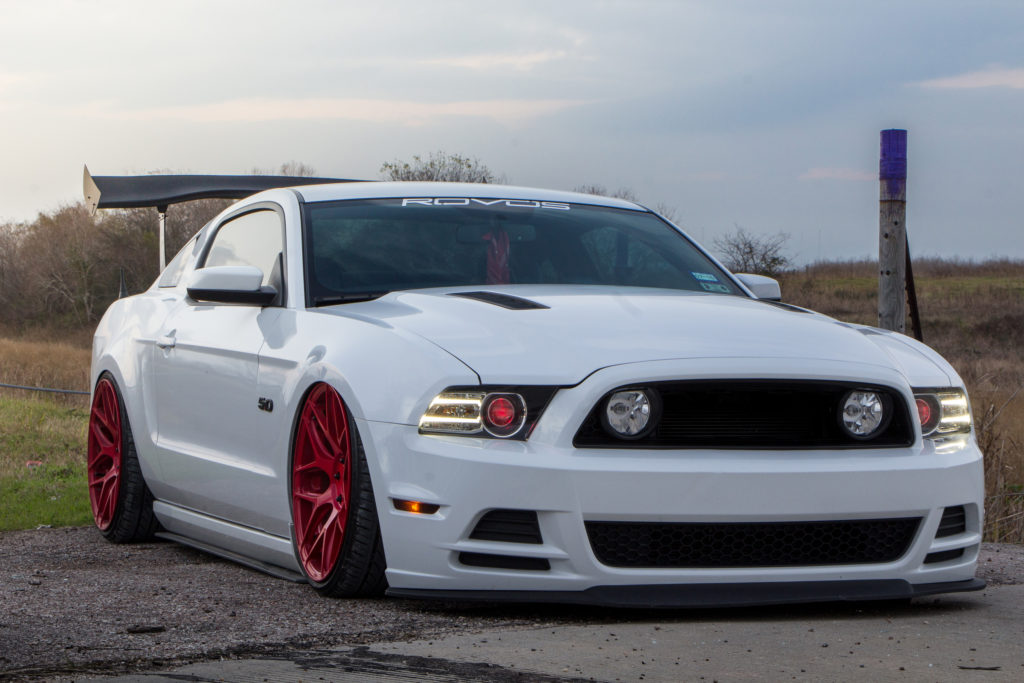 That's when the BCL wing came into the picture. Barber hadn't seen a BCL wing on an S197 Mustang and had always been intrigued by them – so he went for it. That's when the hate started rolling in…
"I loved it though, I couldn't go anywhere without someone wanting to take a picture of it or touch it. But I still wasn't satisfied. I was sick of rolling around looking like I skipped leg day with the skinny ass tires. Word came around back in January of 2016 that Trufiber was designing flares for S197's. I got a hold of them and the flares arrived at my house in March of 2016," explains Barber.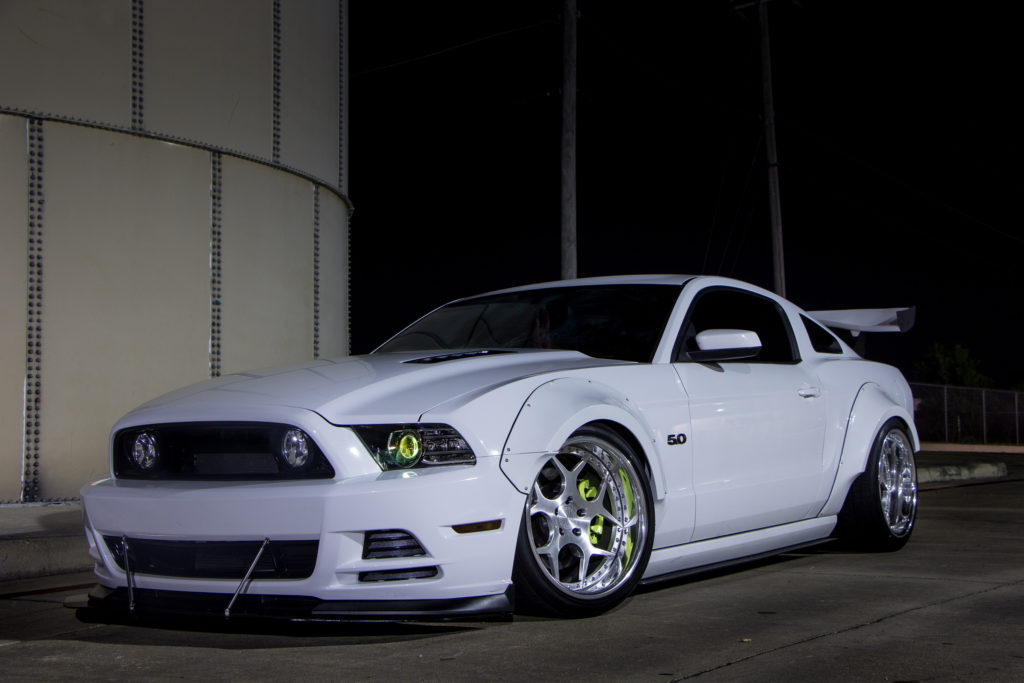 Now it was time to get the grinders and sawzalls out. Taking the grinder to the side of his car wasn't easy by any means – Barber measured everything up, marked all of his cuts, then stood back and looked at the car for a good 10 minutes before just going for it and started cutting. This brought him to his next dilemma – he was going to need bigger wheels, much bigger.
"I called Mike with CVT Designs one day and we were talking about the car, etc. He told me about Art In Motion 3-piece wheels and pointed me in the right direction. I did not want to run spacers on my car at all. I've never liked the idea of flared cars with spacers, and especially 2″ spacers at that," explains Barber.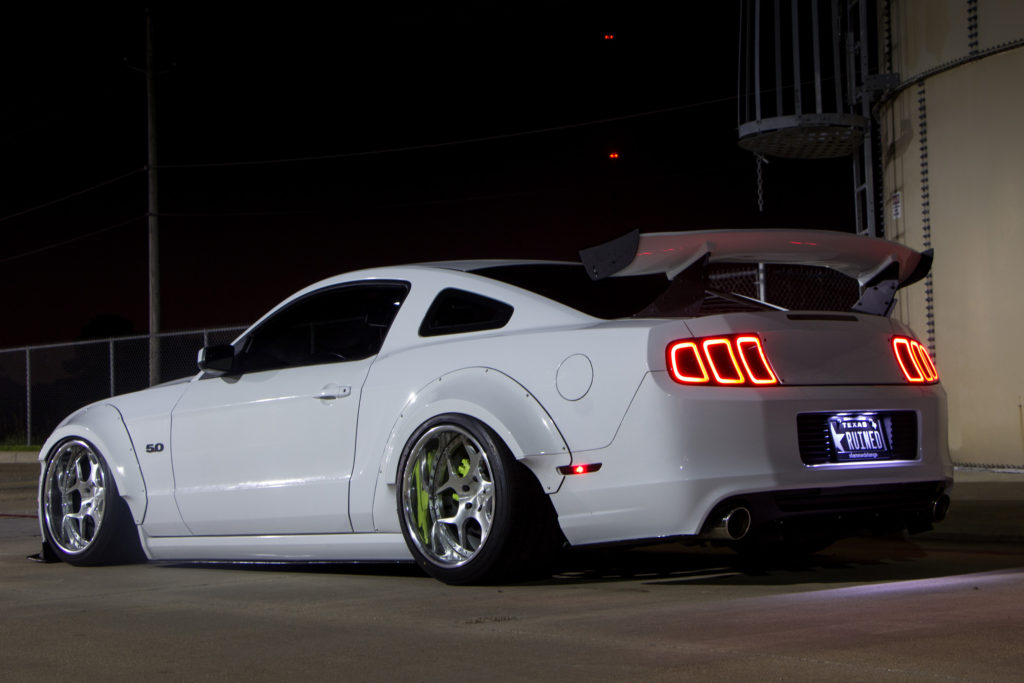 Jarrett worked a deal with Matt over at Art In Motion on a set of MA12 wheels, 19×11 +3 fronts and 19×13 +1 rears wrapped in Nitto Invos (285/30 fronts and 325/30 rears). The car sat for 3 months waiting on its new shoes to be made and they ended up getting delivered 5 days before he left for Mustang week. It was a nail-biter for sure!
"Backed it out of the shop, aired out, then my mouth just started watering. I couldn't believe it was my car and that I was finally done with that process. I loved it," exclaims Barber.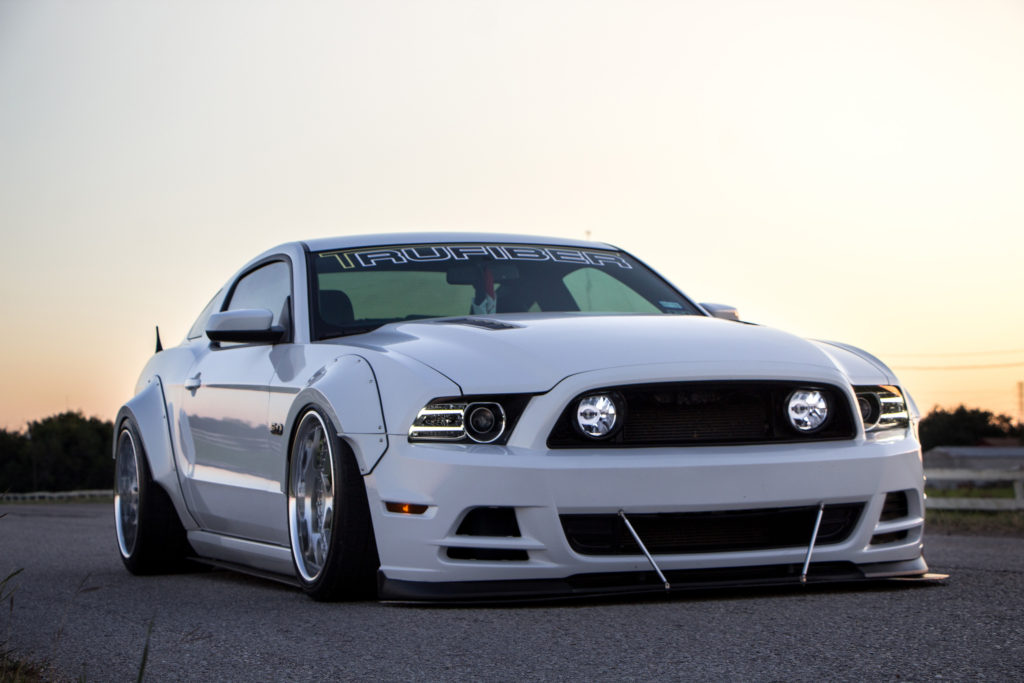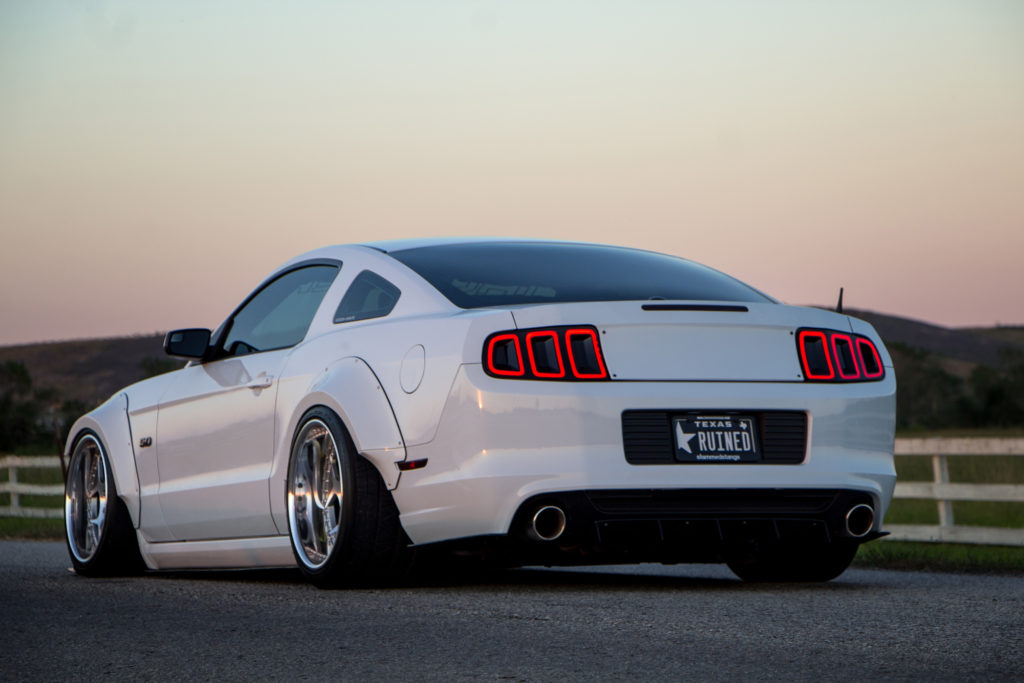 Over the past few years Jarrett's learned a lot. One thing he's learned is there isn't another community in the car world that is better than the Mustang family. "It's awesome meeting new people and seeing what they've done to their cars along with getting to know them on a personal level. That goes with companies, too. I've met so many good people in this process," says Barber.
Jarrett leaves us with this closing statement everyone should take into account when modding their car: "Sure I've received a lot of hate on my car, people have even insulted me personally just because of a car. You just can't let that sh*t bother you though. Do what YOU want to do to your car, don't let someone else's opinion or approval stop you from doing what you like. At the end of the day it's your car, no one else's. That's the beauty of making a car yours, it gives you an opportunity to express yourself through your vehicle."
Mod List:
Exterior:
Cervinis lower grille
Cervinis front lip
Ruined Aero front splitter, side splitters, diffuser
BCL wing
HCM Carbon paint-matched decklid
Trufiber fender flares, paint-matched
LEDALLTHETHINGS RGB demon eye kit
Art In Motion 3-piece MA12 wheels 19×11+3 fronts + 19×13+1 rears
Nitto Invo Tires 285/30/19 + 325/30/19
Suspension:
Air Lift P3/CVT Designs air suspension set up with custom hardline trunk display
Hotchkis adjustable panhard bar
Exhaust:
Custom muffler/resonator delete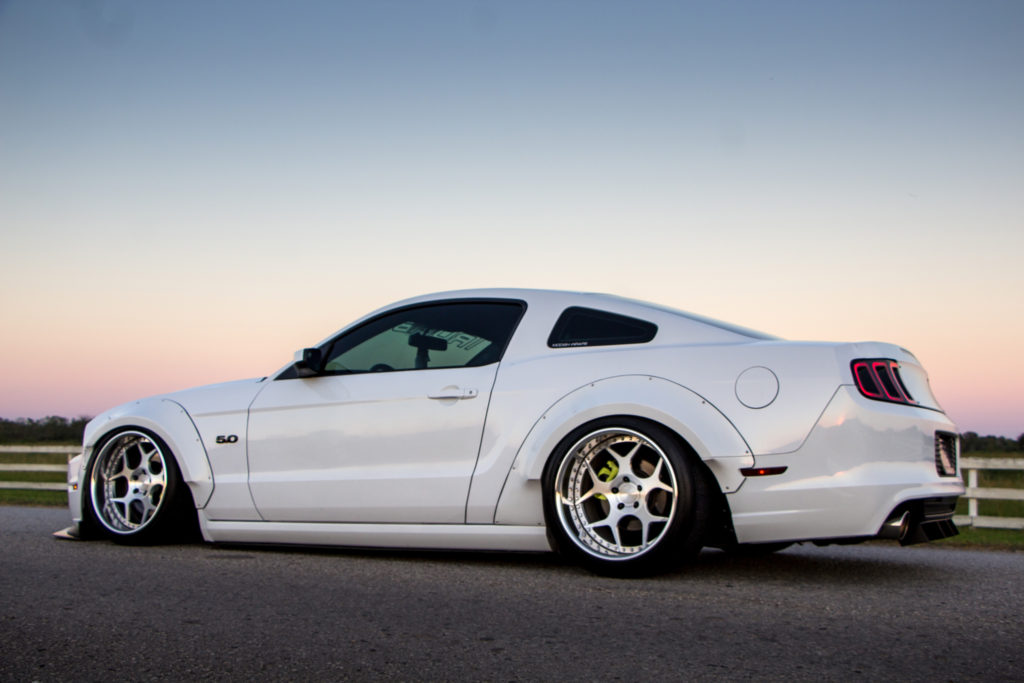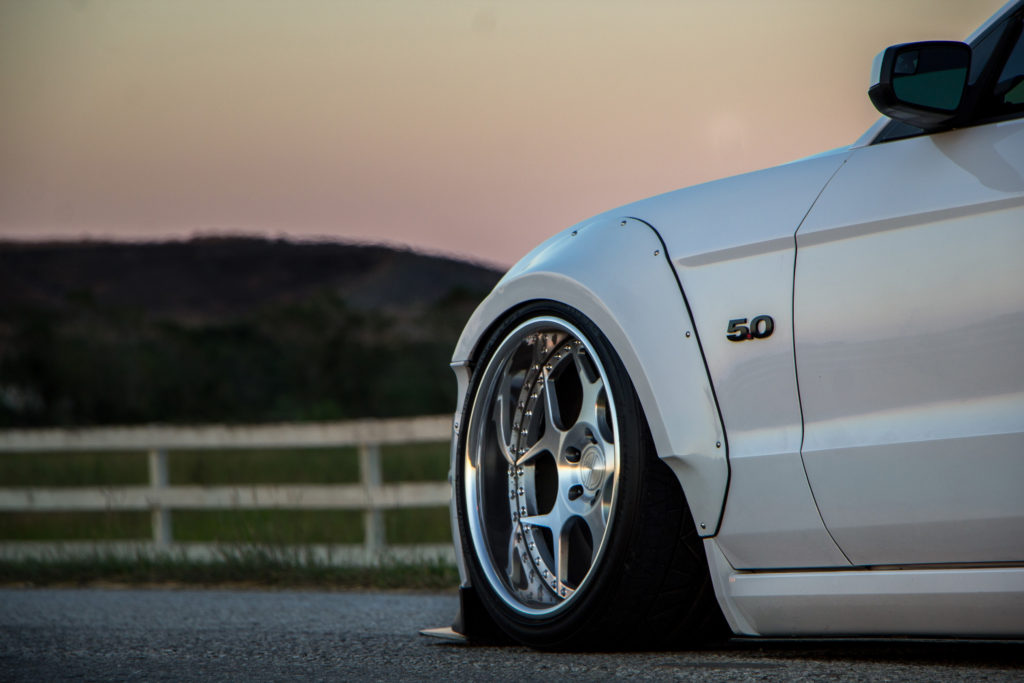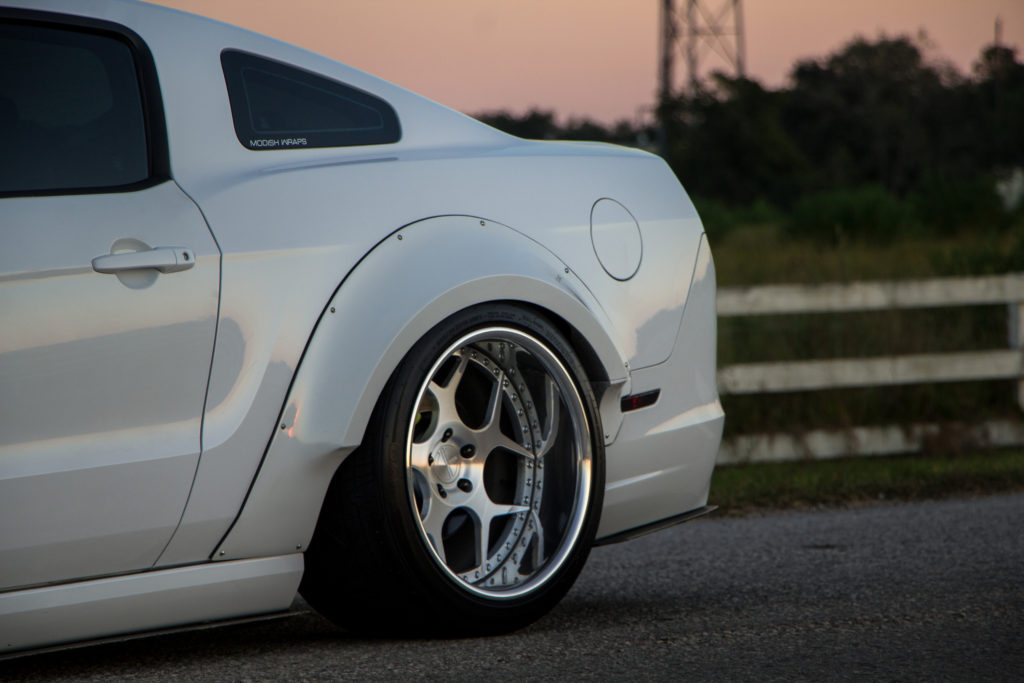 PS – the car's for sale, check out the ad link in Jarrett's Instagram bio.
– slammedstangs approved
Instagram: